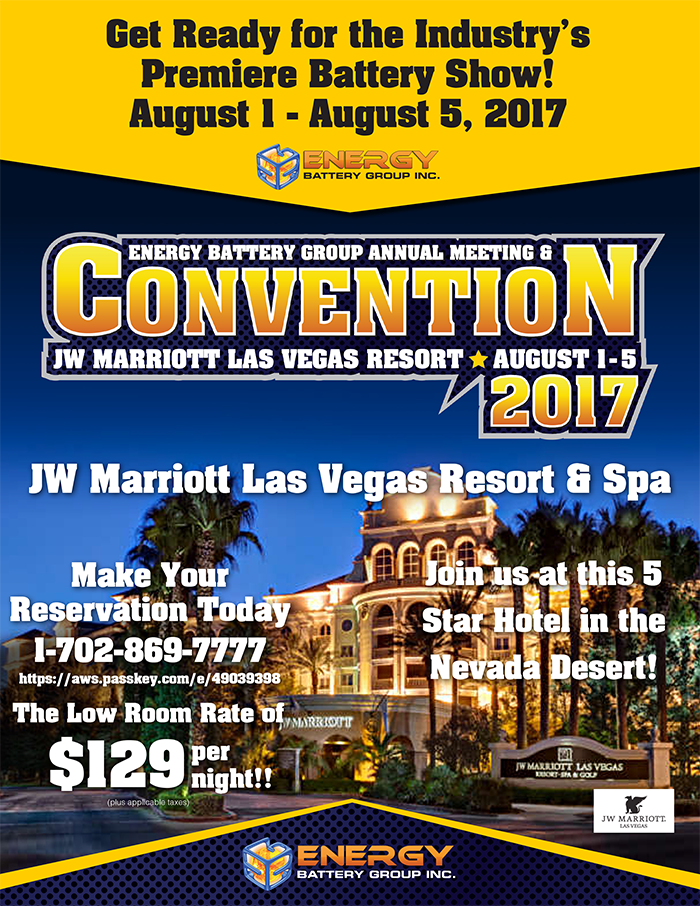 Join us for the conference experience of a lifetime at the 2017 Energy Battery Annual Meeting & Convention in Nevada. Indulge your senses with the best of everything at the JW Marriott Las Vegas Resort & Spa in the heart of the beautiful Mojave Desert near a variety of renowned destinations like Red Rock Canyon, the Hoover Dam and Vegas Strip. Distributors are encouraged to bring their families to share in this amazing city. We invite you to experience it first hand as part of the 2017 Energy Battery Annual Meeting and Convention.
If your business aims to make an impact in your market, you need to develop a reputation as an expert. Attending the 2017 Energy Battery Annual Meeting & Convention convention will help you become a "valued resource" to your customer, with industry leading speakers and workshops with learning potential. Think of attending the convention like an investment. The skills and knowledge you learn at the battery show will be invaluable to your business and can make you invaluable to your business.
For Energy Battery Group members, the annual meeting provides opportunities to network with their peers, learn about new products, attend seminars on new ways to conduct business in an ever changing business climate, and of course to have fun! Each year, EBG Members save millions of dollars in discounts by purchasing show vendors "at show only" specials. Save on show orders. Don't miss this savings opportunity.
For more information, see our Convention page.