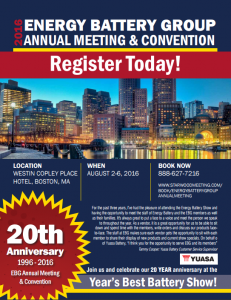 Join us and celebrate our 20 YEAR anniversary at the Year's Best Battery Show! The Energy Battery Group Annual Meeting has been scheduled for August 2-6, 2016, in Boston, Massachusetts. This year's venue is the Westin Copley Place, an iconic Back Bay Boston Hotel, putting you minutes from shopping, entertainment, restaurants, and plenty of things to do in Boston.
The Energy Battery show is guaranteed to entertain: Sightseeing, city tours, the city of Boston is a history buff's dream, great social gathering down time, live music gathering, sporting events (Red Sox's play the NY Yankees 8/6), nightlife and much more. Fun for the whole family!
If your business aims to make an impact in your market, you need to develop a reputation as an expert. Attending the EBG convention will help you become a "valued resource" to your customer, with industry leading speakers and workshops with learning potential. Think of attending the EBG conference like an investment. Get something in return, which, given time, will provide a great ROI for your business. The skills and knowledge you learn at the EBG conference will be invaluable to your business and can make you invaluable to your business.
For Energy Battery Group distributors, the annual meeting provides opportunities to network with their peers, learn about new products, attend seminars on new ways to conduct business in an ever changing business climate, and of course to have fun! The City of Boston, rich in our country's history, offers numerous opportunities to explore and experience first- hand where America's fight for freedom began. Distributors are encouraged to bring their families to share in this amazing city. Boston's ambiance remains unique among world cities. We invite you to experience it first hand as part of the 2016 Energy Battery Annual Meeting and Convention.
For more information, download the show announcement.