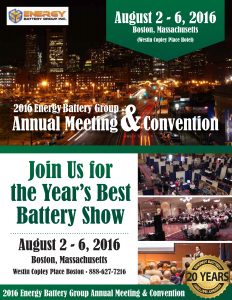 The 2016 EBG Annual Meeting & Convention is coming up August 2-6 in Boston, Massachusetts. See what's in store for those attending the show this year.
1. Go Back in History
See where America's fight for freedom began, relive the famous parts of our past, the Boston Tea party, the heroic ride of Paul Revere, the shot heard around the world, the battle of Bunker Hill, our second president's life, and so much more.
2. Experience of a Lifetime
The Hotel is paid for; the food and beverages are on us. Savings of millions of dollars. Creative juices are flowing; battery specific industry leaders are under one roof. See a part of the USA that should be on everyone's to visit list. Networking you cannot find anywhere else. Make your reservation now.
3. Encounter Vendor and Vendor Products
While running the day-to-day business, we barely have time to stay ahead of it all, much less create time to look and explore new products and new vendors. Being away from the office allows a clearer look at what a new vendor or an existing vendor with new items can bring to your business.
4. Entertainment
This year's EBG show is guaranteed to entertain: Sightseeing, city tours, the city of Boston is a history buffs dream, great social gathering down time, live music gathering, nightlife and much more.
5. Networking with "Industry Big Shots"
1 on 1 with Vendors, 1 on 1 with other Members, learning, education, encouraging. Sharing business ideas, business practices, successes and failures. This is one of the greatest strengths of EBG and the EBG Annual Meeting!
6. Product Exposure
Discovering innovative products and services for your business is necessary to stay competitive in today's fast-paced world. The vendors attending fully grasp what is happening inside your competition. This convention gives exposure to the most innovative sale-able products the industry has to offer.
7. Learn to Position Yourself as an Expert
If your business aims to make an impact in your market, you need to develop a reputation as an expert. Attending the EBG convention will help you become a "valued resource" to your customer, with industry leading speakers and workshops with learning potential.
8. Education of a Lifetime
The educational aspect of the EBG conference will expose you to new ways of conducting your business and help you discover how to be more productive.
9. Cost Savings for At-Show-Only Orders
Last year alone members saved in excess of $1.8 million, by ordering products at the show from vendors offering "at show only discounts" along with the extra discounts given by EBG for any orders written at the show. The Vendors attending EBG have printed deals and even more special deals for those attending.
10. Bring Value Back to Your Business
Think of attending the EBG conference like an investment. Get something in return, which, given time, will provide a great ROI for your business. The skills and knowledge you learn at the EBG conference will be invaluable to your business and can make you invaluable to your business.
For more information about the Energy Battery Group's annual battery show, download the show announcement.