6 Volt & 8 Volt for Golf Carts And Electric Trucks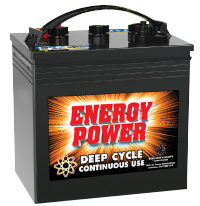 Energy Battery launches new models for Golf Carts and Electric Vehicle applications, with our Powerlast Technology, for higher performance and durability.
Handle Details:
Plastic handle included for easy installation and transportation.
Terminal Details:
Inserted lead terminal in the cover for stronger torque resistance and plastic protector to avoid short circuits and prevent corrosion.
Download the Heavy Duty Deep Cycle Batteries specifications.