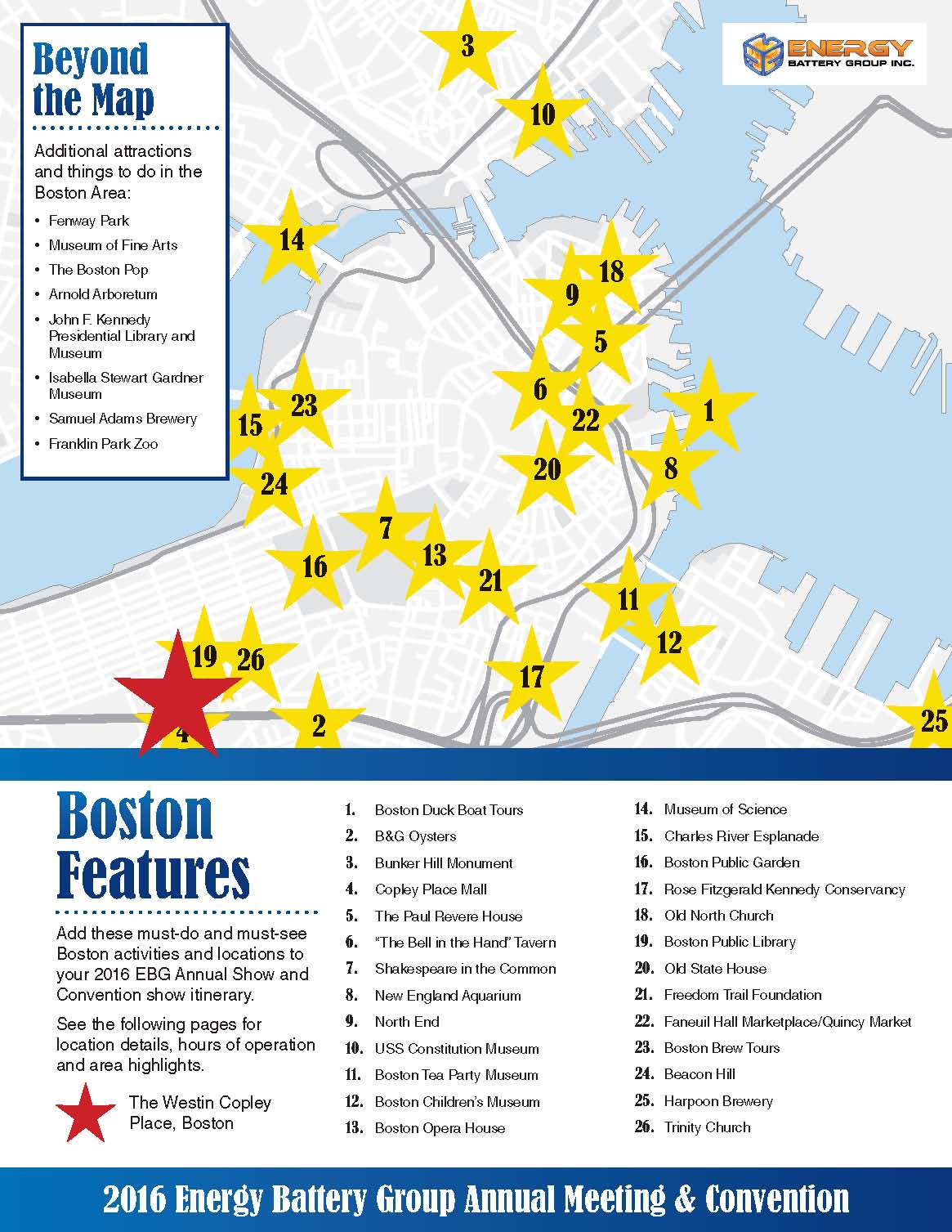 Boston is rich in American history and is sometimes called "The Cradle of Liberty" for its role in instigating the American Revolution. We invite you to experience it first hand as part of the 2016 Energy Battery Annual Meeting and Convention. See the places that you've read about since grade school as part of your time in Boston, Massachusetts. Add these must-see Boston locations to your 2016 EBG Annual Show and Convention show itinerary. These are just a few of the many historical locations you can find in Boston.
Bunker Hill Park and Museum
Bunker Hill Monument is part of the Boston National Historical Park, a unique collaboration of federally, municipally, and privately owned and operated historic sites associated with the colonial struggle for independence linked by a red brick or painted line weaving through Downtown Boston and surrounding areas. The 221-foot granite monument marks the site of the first major battle of the American Revolution. Download the official Boston National Historical Park app. The award winning, free app provides you with all you need for an interactive visit to the park.
Boston Tea Party Ships and Museum
It's more than a stroll through historic artifacts – it's a multi-sensory adventure! Experience an entirely new kind of museum, where you'll not only view artifacts of historical importance, you'll also have an all-encompassing, multi-sensory experience. At the Boston Tea Party Ships and Museum, the museum experience will transport you on an incredible journey back in time as you take part in the famous event that forever changed the course of American History!
Paul Revere's House
On the night of April 18, 1775, silversmith Paul Revere left his small wooden home in Boston's North End and set out on a journey that would make him into a legend. Today that home is still standing at 19 North Square and has become a national historic landmark. It is downtown Boston's oldest building and one of the few remaining from an early era in the history of colonial America.
Don't forget to make your room reservation by May 13, 2016, and get a free room. Energy Battery Group will pay for one room per qualifying member. Call 888-627-7216 or visit www.starwoodmeeting.com/Book/EnergyBatteryGroupAnnualMeeting.
For more information about the Energy Battery Group's annual battery show, download the show announcement.