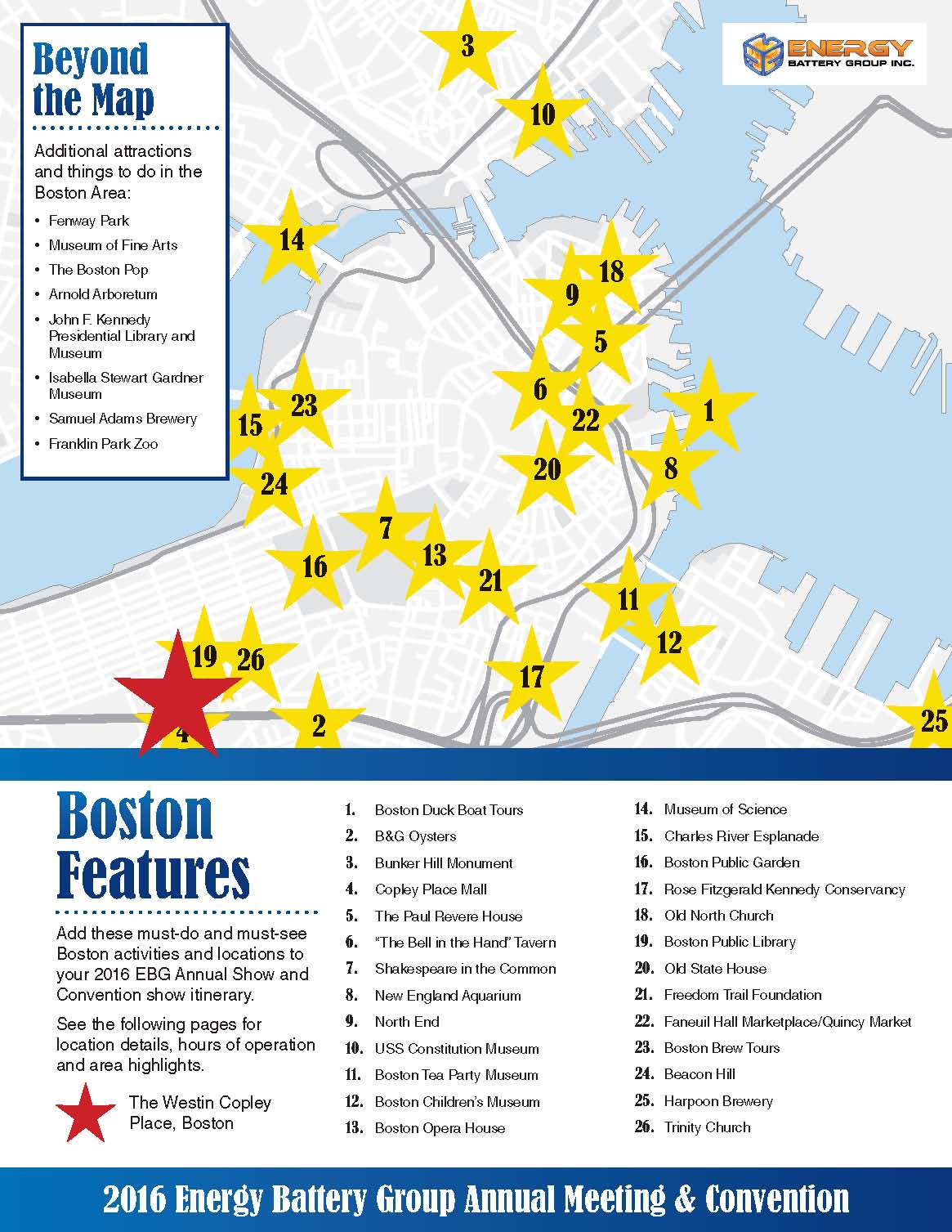 Boston's ambiance remains unique among world cities. We invite you to experience it first hand as part of the 2016 Energy Battery Annual Meeting and Convention. Bring the family and make a vacation of the trip. Add these must-do Boston activities to your 2016 EBG Annual Show and Convention show itinerary. These are just a few of the many activities you can find in Boston.
Boston Duck Tours
You've never toured Boston in anything that comes close to Boston Duck Tours. The fun begins as soon as you board your "DUCK", a W.W.II style amphibious landing vehicle. First, you'll be greeted by one of our legendary tour ConDUCKtors®, who'll be narrating your sightseeing tour of Boston. Then you're off on a journey like you've never had before.
Shakespeare on the Common
Commonwealth Shakespeare Company presents professional productions of Shakespeare to Boston audiences during the summer months when local theatre companies tend to be on hiatus from their regular seasons. Shakespeare on the Common has become an annual Boston tradition, modeled along the lines of "Shakespeare in the Park" in Central Park and the many other free outdoor summer Shakespeare events throughout the country.
New England Aquarium
The principal feature of the New England Aquarium in Boston is the Giant Ocean Tank, a cylindrical 200,000-US-gallon tank simulating a Caribbean coral reef. This tank houses bonnethead sharks, sea turtles, stingrays, moray eels, barracuda, and many smaller reef-living fish. At the bottom, the tank stands in a large, square 150,000-US-gallon penguin exhibit, hosting African penguins, Northern and Southern rockhopper penguins and little penguins. The "Amazing Jellies" exhibit in the West Wing features Aurelia aurita, sea nettles, Cassiopea, Palauan Lagoon jellies and Phyllorhiza punctata, all from diverse habitats around the world.
Don't forget to make your room reservation by May 13, 2016, and get a free room. Energy Battery Group will pay for one room per qualifying member. Call 888-627-7216 or visit www.starwoodmeeting.com/Book/EnergyBatteryGroupAnnualMeeting.
For more information about the Energy Battery Group's annual battery show, download the show announcement.